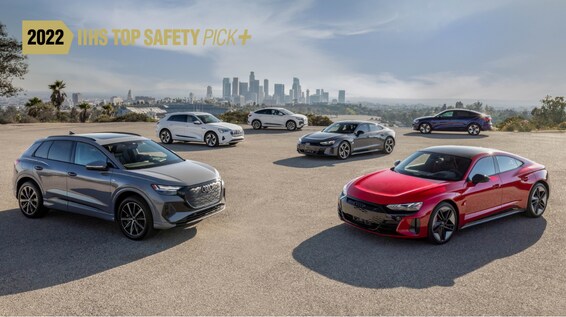 Audi has always made safety a priority when designing their vehicles. They have won countless awards for vehicle safety and technology, and they recently hit another new milestone. After awarding 10 Audi models TOP SAFETY PICK+ or TOP SAFETY PICK distinctions in early 2022, the Insurance Institute for Highway Safety (IIHS) added five more Audi models to this list in November. That brings the total to 15 Audi models receiving top positions in the safety aspect, more than any other automaker. As an authorized dealer of these incredibly safe and technologically advanced vehicles, Audi Englewood celebrates the continued progress that Audi has made, and we can't wait to share it with you. Continue reading to learn more about this year's IIHS awards and about the 2023 Audi lineup!
Award Winning Audi Models
In November 2022, Audi topped all the other manufacturers in the 2022 TOP SAFETY PICK+ Award category. The 2023 Audi A5 is the latest model to receive this reward. The full list of models to receive the 2022 TOP SAFETY PICK+ award include: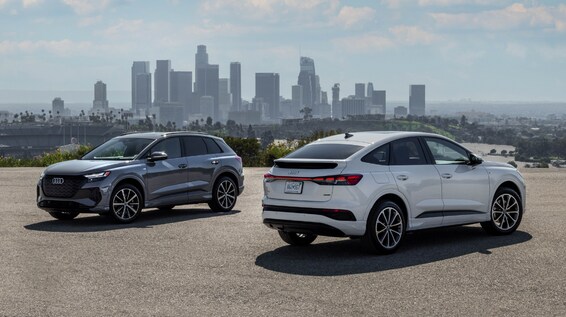 TOP SAFETY PICK+ Award Criteria
The IIHS uses various criteria to award a vehicle model the TOP SAFETY PICK+ distinction. Besides a superior or advanced front crash-prevention system and good or acceptable headlight as a standard equipment, a car model must receive high ratings in the following tests:
Head Restraint

Roof Strength

Moderate Overlap Front

Original Side

Driver-Side Small Overlap Front

Passenger-Side Small Overlap Front
Audi's Dedication to Safety
The President of Audi of America, Daniel Weissland, remarked that the company puts the safety of its client as the top priority. With the German automaker dominating the IIHS TOP SAFETY PICK+ awards in 2022, it is hard to argue against Weissland's claim. The brand engineers are continuously designing, developing, and testing car models to define safety standards in automotive. The company's front crash prevention system equipped with daytime vehicle-to-pedestrian and vehicle-to-vehicle collision prevention technology has propelled Audi to the top of the IIHS TOP SAFETY PICK+ AWARD list.
Get Your Award-Winning Audi at Audi Englewood
Buying a car is an exciting decision for most people, however, most buyers are frustrated by the bad customer experience at dealerships and safety concerns about their cars. If you want quality, safety, technology, and excellent services, Audi Englewood is the place for you! We provide all these top-rated Audi models, and our highly skilled sales representatives offer exceptional assistance to our customers. Whichever Audi you want, new Audi models, certified pre-owned Audi's, or our pre-owned models, Audi Englewood has them for you. Please call us at 877-642-4905 or contact us online to look at our inventory and schedule a test drive.