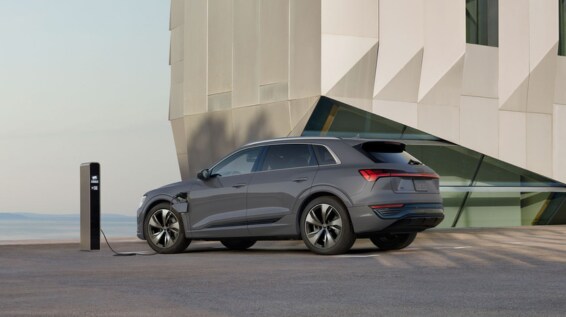 The most recent arrival into the fully electric Audi e-tron lineup has cutting-edge and seamless electrification technologies, a longer range, more powerful charging, and improved driving characteristics. Allow us to introduce the all-new 2024 Audi Q8 e-tron and Q8 e-tron Sportback. The Q8 e-tron will be Audi's ultra-premium electric SUV, and it will feature enhanced performance and efficiency to boost the driving experience. Our team at Audi Englewood cannot wait to share this all-new e-tron model with you when it arrives this summer. In the meantime, continue reading to learn more about the Audi Q8 e-tron!
Audi Q8 E-tron Design Elements
Audi's new flagship electric SUV, the Q8 e-tron, represents the brand's ambition to be entirely electric by 2030. On the Q8 e-tron, Audi's new minimalist two-dimensional emblem and single frame grille are present, along with elegant styling adjustments that improve aerodynamics. The Singleframe grille also has a ground-breaking projection lighting concept that emerges from below the hood line and gives the two-dimensional Audi insignia an optical depth. The Audi Q8 e-tron has revised front and rear fascia treatments, an available wheel selection that is more aerodynamic, and a self-sealing aero system that strikes a compromise between efficiency and cooling needs. The Audi Q8 e-tron also features newly designed aerodynamic spoilers, vents, and styling throughout the exterior to minimize drag and maximize efficiency and range.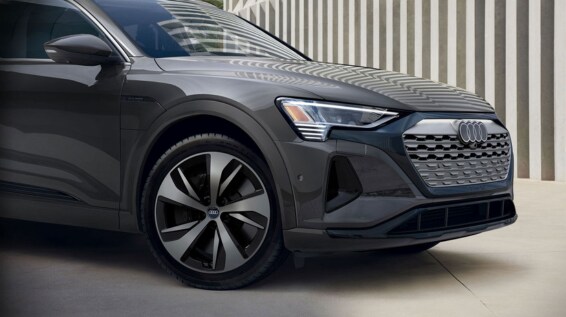 Audi Q8 E-tron Performance
With a longer driving range, more powerful charging capabilities, and greater driving dynamics, the 2024 Audi Q8 e-tron offers a distinctive and intuitive electric experience. The Q8 e-tron is an exciting debut into the premium SUV segment because of its striking stylistic upgrades, cutting-edge technologies, and impressive performance. The battery capacity of the Q8 e-tron has increased by 23% compared to the e-tron of the previous model, with a net capacity of 106 kWh (114 kWh gross). The Q8 Sportback e-tron with the extreme package now has an EPA-estimated range of 300 miles, which is a 30% improvement over the 2023 e-tron Sportback.
The redesigned asynchronous electric motor for the rear axle now has 14 motor windings as opposed to 12. This improves effectiveness without sacrificing efficiency or power. Audi's quattro all-wheel-drive technology, which features asynchronous motors in the front and back, is a standard feature on all Q8 e-tron versions. In addition to better steering hardware and suspension software that enhance the car's responsiveness while preserving great ride comfort and a quiet cabin, the vehicle modifications offer a more refined and smooth electric experience. All these updates combined allow the Q8 e-tron to achieve quicker acceleration and run 0-60 mph in as little as 5.3 seconds.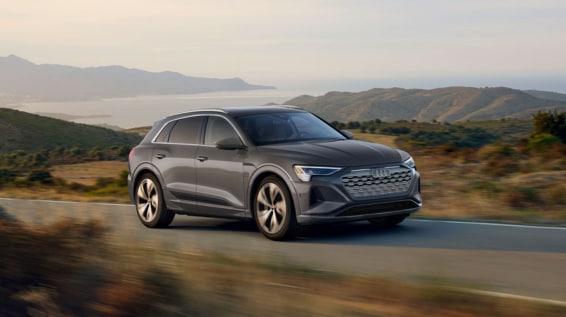 Audi Q8 E-tron Battery & Charging
The Audi Q8 e-tron comes with Audi's latest technology in their battery and charging systems. The battery pack's useable capacity has increased from 91% to 93% as a result of changes made to the battery management system. The maximum DC charging power has grown from 150 kW to 170 kW as a result of developments in cell chemistry and technology, enabling a 31-minute charge from 10% to 80% capacity. Two years of free DC fast charging with Electrify America are included with the Q8 e-tron. Plug & Charge technology does away with the requirement for submitting a second payment card at select charging stations across the nation. A bonus week of Audi on-demand rentals through the Always Audi program is also included to improve the hassle-free EV ownership experience.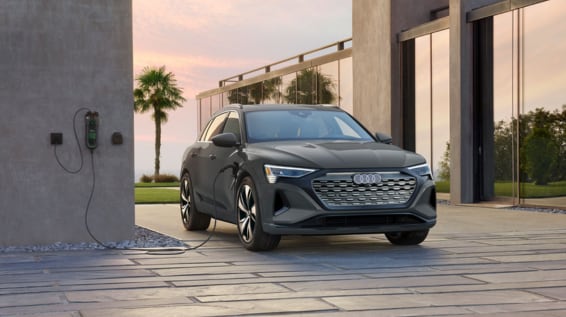 Get the Audi Q8 E-tron at Audi Englewood
The all-new 2024 Audi Q8 e-tron and Q8 e-tron Sportback will be arriving to Audi Englewood this Summer! Our team at Audi Englewood is prepared to help you get your hands on this new flagship SUV. Contact us today online or call us at 877-642-4905 to inquire about ordering this new model. If you're in the market for a new vehicle now, we encourage you to shop our wide range of new e-tron models, our full new Audi lineup, or our certified pre-owned or pre-owned inventory. We look forward to helping you find the Audi of your dreams!