Silvercar by Audi is updating its luxury rental cars lineup once again! Silvercar by Audi has officially announced that the fully electric Audi e-tron Sportback has been added to its rental fleets. This is the first and only rental car company in the USA that is offering the Audi e-tron Sportback. Our team at Audi Englewood is proud to be a Silvercar by Audi participating dealer. If you're in need of a rental car for business, leisure, or long-term service, contact us today! Continue reading to learn more about this announcement and learn more about what the Audi e-tron Sportback has to offer.
Silvercar by Audi
Silvercar by Audi is Audi's exclusive, luxury car rental company. Silvercar is an all-Audi, app-based rental car option available at participating dealerships. With the "Always Audi" program, current owners and new leases are eligible for seven days of complimentary rentals through Silvercar by Audi. Additionally, qualified Audi drivers can now test out the e-Tron Sportback without extra costs so you can experience the excitement of electric car driving experience without purchasing one. ?The Audi e-tron Sportback might be the newest member of the Silvercar rental fleet, but customers who rent through Silvercar can choose from a wide range of Audi sedans and SUVs. Other perks include onboard Wi-Fi, GPS navigation, SiriusXM satellite radio, no mileage restrictions, and car seat rentals – all at no additional cost.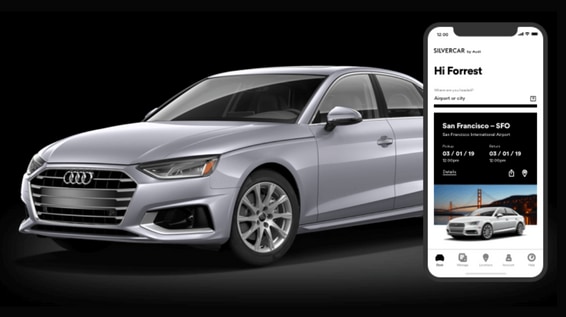 Sara Whiffen, VP of Strategy, Mobility & Retail Operations at Audi of America, had this to say about the new rental offers: "The Audi e-tron Sportback is unmatched in combining all-electric performance and luxury. Our customers have been asking and we're excited that they will now be able to rent these vehicles at select Audi dealerships through Silvercar by Audi. It's a great way to experience Audi's electric future." –
Audi Newsroom
The Audi e-tron Sportback
Audi of America pledged to go all in on a fully electric future. Audi pledged by 2025 that 30% of the new model lineup will be electrified, and globally they are committed to net CO2 neutrality by 2050. The Audi e-tron Sportback is the second fully electric model offered by Audi. The Audi e-tron Sportback is truly an engineering marvel with impressive performance. The powertrain sparks out 469 horsepower and 717 lb-ft of torque, allowing the e-tron Spotback to accelerate 0-60mph in 4.3 seconds. The 95kWh battery takes approximately 30 minutes to charge up from 5% to 80%, and when fully charged, it has an estimated EPA range of 208 miles. Ride in luxury with fully electric power in the Audi e-tron Sportback. Come experience it for yourself today!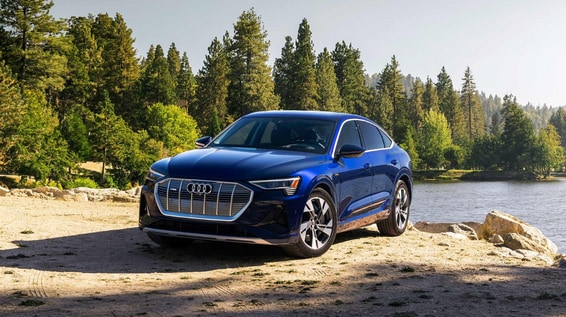 Electrify your journey with Audi Englewood
Silvercar's new lineup offers an electrified journey from the latest e-Tron Sportback offering. If you're interested in renting through Silvercar, contact our team today at 877-642-4905, or visit our Silvercar page on our site for more info. We invite you to visit our new showroom at 400 South Dean Street in Englewood, NJ. If you're in the market to purchase a vehicle, we have an amazing selection of new Audi models, certified pre-owned Audi models, and pre-owned vehicles in stock. We look forward to seeing you at Audi Englewood!