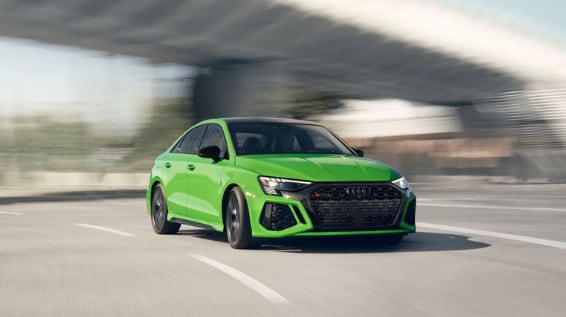 Audi enthusiasts are always closely following the announcement and release of new high-performance models. Audi has recently made an announcement of the latest model in their Audi Sport lineup, and it's making shockwaves across the automotive industry. Audi recently announced the all-new, second-generation Audi RS 3, and it's schedule to arrive here at Audi Englewood and other Audi stores this summer! From the refreshed exterior, to the race-inspired interior, to the unmistakable roar of its five-cylinder engine, this is a Audi Sport sedan that is more than worthy of the RS badge. Continue reading to learn all about the new Audi RS 3 model!
Design Inspired by Racing
Inside and out, the 2022 Audi RS 3 highlights Audi's racing pedigree. Sporting a 1.3-inch wider track and widened bumper, the new RS 3 made room for larger air intakes and airflow guides that help cool the brakes. For the ultimate in weight savings, select the Carbon package to convert the RS 3's rear spoiler, mirror housings, and door sill inlays to racy carbon fiber.
Audi brings their usual level of quality to the interior with 8-way power front seats in Nappa leather, but again they've added a few motorsport touches. On manual transmission models, the shift indicator blinks green-yellow-red, indicating when to change gears like in a race car. The 10.1-inch center display offers a G-force indicator and tire pressure readout, in addition to engine, transmission, and coolant temperatures. Finally, the 12.3-inch Audi virtual cockpit brings all necessary information to the driver in a fun but practical design that resembles an airplane runway.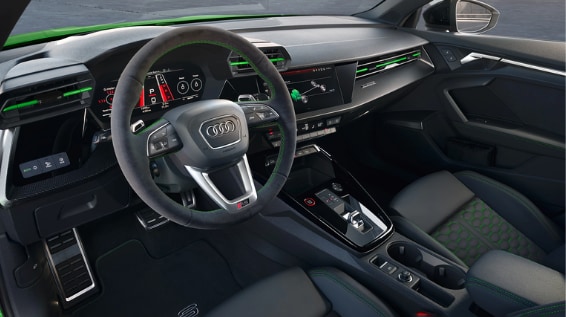 Innovative Engineering
As beautiful as the new visual touches on the second-generation Audi RS 3 are, the technology and engineering are even more impressive in our opinion. For Audi, that always means cutting-edge performance and exquisite execution. That tradition is fully intact with the new RS 3, which features a host of technological innovations with substantial practical applications. First and foremost, the RS Torque Splitter can distribute engine power between the rear wheels as needed, depending on performance mode and road conditions. Along with electronically controlled clutches on each drive shaft, this innovation enables improves cornering at speed and greater stability overall.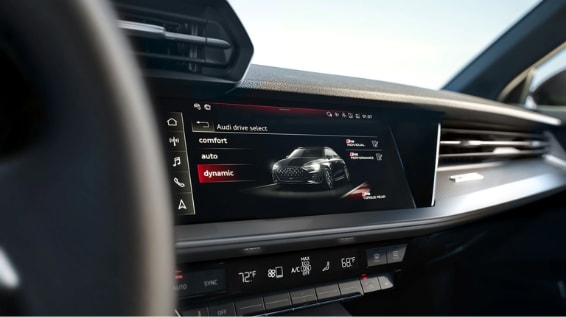 Performance cars need to stop as well as they go, so Audi fitted the new RS 3 with larger 6-piston front brakes featuring 20% better cooling. There's even a ceramic brake option for the ultimate in braking effectiveness. Dynamic chassis control (DCC) rounds out the technical achievements on this new model. DCC can adjust chassis settings to improve cornering and minimize wheel bounce. Its comprehensive array of sensors takes into account road conditions and vehicle speed, as well the performance mode selected by the driver.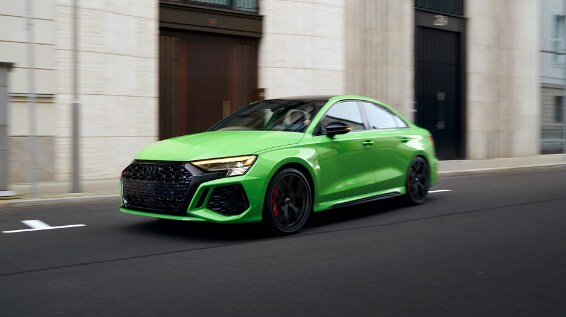 Counting to Five: 1-2-4-5-3
With nine "International Engine of the Year Awards" under its belt, Audi's five-cylinder is no stranger to the stage, whether that be the awards stage or the winner's circle. The cylinders fire in the order of 1-2-4-5-3, but this engine's race performance goes straight to 11. From its dominance in World Rally Championship, to hill climbs at Pikes Peak, to the IMSA series, to the 24-hour race at the Nürburgring, there's no disputing this engine's motorsport credentials.
With the 2022 edition's output bumped to 401 horsepower and 369 lb-ft of torque, this is one of Audi's finest five-cylinders yet, and that's a powerful statement. Select the available RS sport exhaust system to get the full effect of this rowdy engineering marvel as it rockets from 0-60 mph in 3.6 seconds. Delivering all that power is the job of the seven-speed S-tronic transmission. Featuring dual clutches and optimized gear ratios, the S-tronic is the perfect complement to the roar of power from the front.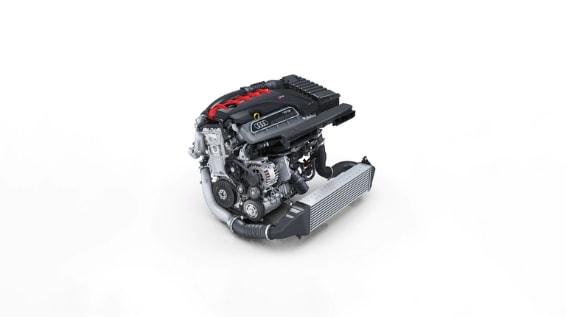 Get Your Audi RS 3 at Audi Englewood
The 2022 Audi RS 3 arrives in showrooms this summer, and if you're in the market for a one-of-a-kind sports sedan, it should be at the top of your list. Contact the Sales Team at Audi Englewood by calling 877-642-4905 to arrange a test drive or talk about options to order your RS 3. Interested in a different Audi model? Browse our selection of new Audi models, pre-owned vehicles, and certified pre-owned Audi models online today! Our selection is extensive, and our sales team is knowledgeable. Nothing makes our team happier than finding that perfect vehicle for you. Our customers love working with us, and we think you will too!