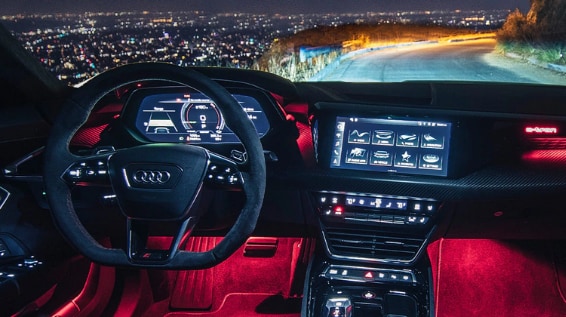 At Audi of America, we recently partnered with Verizon to bring 5G technology to all new Audi models. This collaboration brings embedded 5G ultra-wideband connectivity to Audi vehicles allowing for highly personalized and augmented mobile services, new driver-assistance features, and connectivity innovations for an automated future of driving. It is the first agreement between Audi and Verizon for 5G-enabled automobiles. Our team at Audi Englewood is more than excited about this partnership, as it will make technology, safety, and convenience in our customer's vehicles even better still. This partnership will contribute to powering the next generation of Audi vehicles, and it's estimated to begin with select models starting from the 2024 model year. Continue reading to learn more about this partnership and what benefits you can expect to find in your 2024 Audi models!
Partnership Benefits
The 2015 A3 was the first Audi vehicle to bring Wi-Fi to customers and 4G LTE connectivity. This new partnership with Verizon will bring next-generation connectivity, allowing Audi drivers to be among the first to experience new generations of automobiles featuring 5G mobile devices and vehicles. The technology embedded in Audi automobiles will connect to the Verizon 5G Ultra-Wideband network to enable advanced features to run smoothly, with faster connection to services and blazing-fast-in-car Wi-Fi and infotainment. Additional benefits of the new technology include:
Passengers will be able to stream and download at higher speeds for their entertainment and access better quality internet services.

Like mobile phones, Audi vehicles will receive firmware and software updates over the 5G Ultra-Wideband system to ensure the vehicle's technology remains up to date.

Au

di infotainment and navigation systems are enhanced with HD/3D mapping and video, cloud-based user profiles, and mobile retail capabilities.

Audi and Verizon are developing cellular vehicle-to-everything (C-V2x) technology for our customers, allowing vehicles to respond to vehicles and infrastructure for low latency alerts and relay messages. This technology is essential in developing the automated vehicle's safety advancements, like providing a full view of surrounding vehicles, beyond what the vehicle's driver, camera, and radar systems can observe.
Major cloud service providers are now partnering with Verizon to provide mobile edge computer technology used to develop innovative safe and autonomous driving features. These services offered in 5G provide connectivity with low latency needed for C-V2X communication. Verizon is actively expanding its 5G Ultra-Wideband network, making it committed to developing advanced 5G-enhanced vehicle technology and superior driving experience.
Get Your Next Audi At Audi Englewood
We strongly support all technology advancements in the Audi model lineup. We believe this new partnership is naturally aligned with the Audi corporate initiative of having the 2025 Audi lineup be 30% electrified, including fully-electric and plug-in hybrid vehicles. If you're in the market for a new vehicle, we have a wide selection of new Audi models, electric & hybrid models, pre-owned models, and certified pre-owned Audi's. Our team looks forward to helping you find the car of your future!