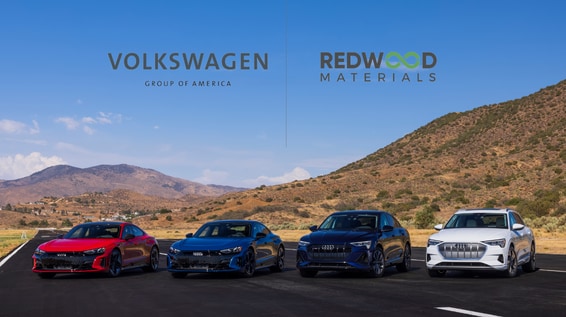 Audi pledged to have at least 30% of their model lineup electrified by 2025, and they plan to introduce over 25 electric vehicles by 2030. Our latest collaboration is a step towards meeting this objective. We recently collaborated with Redwood Materials, Inc. to create a reliable supply chain that will recycle Volkswagen and Audi electric vehicle batteries in the US. This collaboration and other recent partnerships aim at providing more accessible and sustainable electric mobility for Audi customers and dealers across the United States. Our team at Audi Englewood is excited to participate in this new initiative when recycling our customer's vehicle batteries. Continue reading to learn more about this new corporate partnership between Audi and Redwood Materials!
Redwood Materials
Redwood Materials is not new to recycling lithium-ion batteries. Redwood Materials, Inc. already recycles over 6 GWh of lithium-ion batteries annually which is equivalent to a resounding 60,000 electric vehicle batteries. Redwood recycles products such as unusable electric vehicle batteries, end-of-life devices, and battery production scrap. The company then extracts raw materials such as copper, nickel, lithium, and cobalt and refines them before processing them into essential EV battery components used by domestic cell manufacturers. Initially, Redwood will work with approximately 1,000 Audi and Volkswagen dealerships across the country. This partnership advances Audi and Volkswagen's strategy of localizing the primary competencies in electric mobility and Redwood's aim of establishing a dedicated closed-loop domestic supply chain for electric lithium-ion batteries in the region.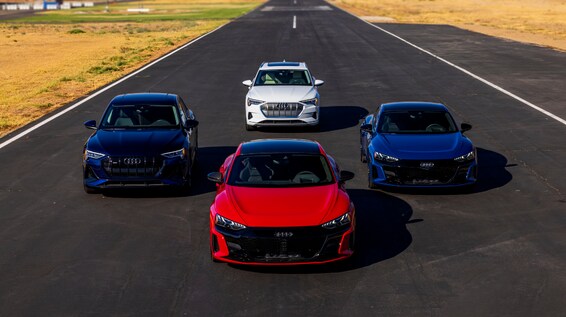 Key Benefits of the EV Battery Recycling Partnership
This partnership benefits Audi, Redwood, and all Audi EV customers. The deal is a commitment to Audi's partners and customers across the globe that Audi will always ensure a reduced environmental impact. As we blaze into an electrified future, the need for battery materials will grow. This partnership enhances innovation and sustainability in the future helping ensure that electric vehicles have a renewable purpose and less environmental waste. Safely recycling batteries and components from Audi electric vehicles allows Audi to improve its supply chain leading to increased production of EV's. The long-term goal of this project is environmentally sustainable resources for batteries, which in turn will help in reducing battery costs, and therefore, reducing EV costs in general. All of this together will make Audi EV's more accessible for their customers.
Get Your Next Ride at Audi Englewood
This collaboration has many advantages, including low battery costs, improved access to EV batteries, and a boosted environmental footprint. If you're in the market for an electric or plug-in hybrid electric Audi, our team at Audi Englewood has you covered. We have vehicle options in stock today, including the e-tron, e-tron S, Q4 e-tron, Q4 e-tron Sportback, and RS e-tron GT. Browse our electric inventory online, or browse our entire new inventory, pre-owned inventory, or certified pre-owned inventory. You can call our team at 877-642-4905 or visit our new showroom at 400 South Dean Street in Englewood, NJ. We hope to see you soon!