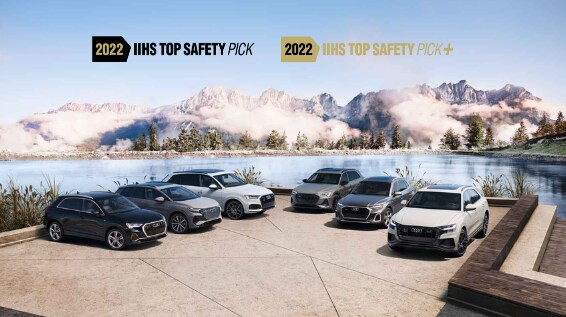 Each year, the Insurance Institute for Highway Safety (IIHS) tests and evaluates new production vehicles and awards them safety ratings based on their performance. This year, 10 different models in the 2022 Audi lineup were awarded 2022 IIHS 'TOP SAFETY PICK+' or 'TOP SAFETY PICK' distinctions! Our team here at Audi Englewood is proud to sell some of the safest and technologically advanced vehicles on the market.
The A6, A6 Allroad, A7, Q5, Q5 Sportback, E-Tron, and E-Tron Sportback have all been awarded the TOP SAFETY PICK+ award in three categories: luxury cars, midsized premium SUVs, and large SUVs. Moreover, the 2022 Audi A4, A5 Sportback, and Audi Q8 have all won the TOP SAFETY PICK in the midsized luxury vehicles and large SUV categories when equipped with "acceptable" headlights. Please continue reading to learn about the IIHS evaluation process and the award-winning technology and driver assists featured in Audi models.
IIHS TOP SAFETY PICK+ Evaluation Process
In its study, the IIHS focused primarily on a car's crashworthiness tests, which examined vehicles across six broader categories:
Driver-side small overlap front

Passenger-side small overlap front

M

oderate overlap front

Original slide

Roof strength

Head restraint tests
They IIHS also evaluates vehicle's vehicle-to-vehicle and vehicle-to-pedestrian front crash prevention systems, as well as at least one headlight system. For vehicles to be awarded TOP SAFETY PICK+, the cars must earn "advanced" or "superior" ratings in both front crash prevention systems and at least a "good" or "acceptable" rating for one headlight system.
Audi Safety Features & Driver Assists That Earned the Awards
Audi engineered its 2022 lineup with luxurious interior, modern standard safety features, and advanced driver assist systems (ADAS) to give drivers peace of mind and confidence when driving on the road. Audi's suite of driver assistance systems includes:
Audi pre-sense ® rear
he Audi pre-sense ® rear features radar sensors in the rear bumper to sense an impending rear-end collision and consequently trigger preventative measures.
Adaptive cruise control
Audi's cruise control with stop and go helps harness the car's acceleration and braking power. It also maintains a steady speed and the distance between the car and the front vehicle.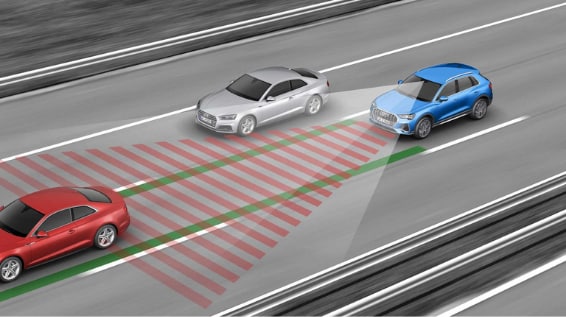 Active lane assist
This feature uses lane sensors that detect road markings and other structures to help in steering the car straight in its lane, preventing it from switching lanes.
Adaptive cruise assist
The adaptive cruise system comprises cameras, ultrasonic sensors, and radar that enable the car to monitor the environment. It is highly helpful when driving on the highway.
Blind-spot monitoring
Another standard safety feature in the 2022 Audi lineup is the blind spot monitoring system. It consists of the Audi side assist, and two rear-mounted radar sensors, which constantly scan the rear end to track any car that enters the blind spot. If a vehicle moves into the blind spot, the system signals on the exterior mirror casing.
Audi night vision assist
To enhance road visibility at night, the 2022 Audi boasts a night vision assist that utilizes a long-range infrared camera and detects objects up ahead based on their thermal energy. The images of the objects appear in black and white, easily displayed in the vehicle's digital cluster.
Pedestrian and vehicle-detection system
This safety feature uses a forward-facing camera and radar systems to detect potential threats and help drivers take preventative actions to alleviate accidents and crashes. It does that by offering visual and acoustic feedback to alert the driver of potential hazards on the road.
Purchase Your Award-Winning Audi at Audi Englewood
At Audi Englewood, we are proud to have a large selection of award-winning Audi models. We invite you come shop our new Audi models, certified pre-owned Audi's, or our pre-owned inventory. We have dedicated sales representatives who provide a memorable customer experience with unparalleled customer care. They are knowledgeable about the brand and makes of cars to provide valuable insights that allow you to make informed purchase decisions. Contact our sales team at 877-642-4905 or visit our Audi Englewood dealership in person today!