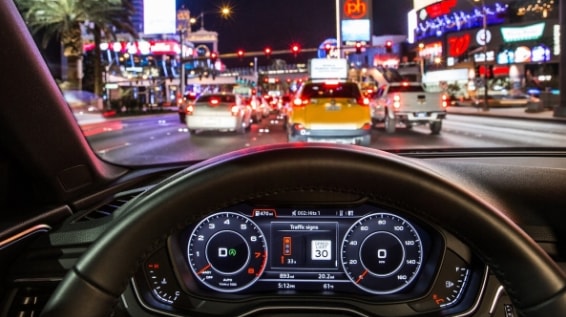 Over the past two decades, Audi has pioneered numerous connected technologies. For starters, Audi brought the first LTE Wi-Fi hotspot connection to a production vehicle. In 2016, Audi introduced Traffic Light Information (TLI) technology, allowing Audi vehicles can communicate to traffic signals and present drivers with real-time information on the dashboard. And now, Audi has increased the reach of their TLI system to include more cities and intersections including New York City, San Francisco, and Los Angeles. Our Audi Englewood team is here to help you utilize these features in your Audi. Continue reading to learn how TLI works and what features you can expect!
What is Audi TLI?
Audi first introduced Traffic Light Information back in 2016 as part of their Vehicle-To-Infrastructure technology initiative. At the time, it had limited capability with just a handful of connected traffic lights and intersections. Since then Audi has continued to expand the TLI capabilities, and now the technology is now connected to over 22,000 intersections around the US. If you live in or around New York City, you'll be pleased to learn that Audi recently announced that it had incorporated New York City's Traffic Light Information into its TLI technology. TLI provides assistance features and real-time information to drivers to help improve efficiency and safety while driving. Some features include Countdown to Green, Green Light Recommended Speed Advisories, the Bottom Line, and more.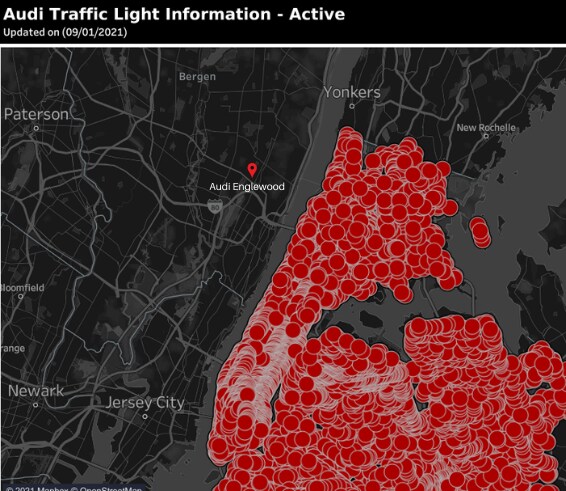 Features of TLI Technology
Green Light Recommended Speed Advisory
The system provides speed recommendations within the city's speed limits to enable drivers to ride a 'green wave,' thus minimizing stop-and-go driving. According to a report by the DOT, reducing stop-and-go driving can improve fuel efficiency by up to 15%.
Countdown to Green
The countdown to green feature presents drivers with the ability to know when a light will turn green. This is especially beneficial to business people and on-the-go parents travelling with their kids since they are able to sharpen their road awareness prior to signal changes.
The Bottom Line
Audi has been developing Vehicle-to-Everything (V2X) technology for nearly two decades, long before TLI was introduced. And they are not stopping there. Audi is also adding other technologies like the Integrated Toll module to facilitate seamless toll transactions and the advanced cellular-vehicle-to-everything mobility communications (CV2X) technology to improve road safety for vulnerable road users.
How Does TLI Technology Work?
TLI works by communicating between vehicles and traffic signals through an LTE signal to provide various driver assistance features. Connected traffic signals communicate to off-site servers that collect, analyze, and recognize patterns in traffic. These connected traffic signals are operated by more than 60 agencies around the US, and this data enables them to make signal predictions that is relayed to your vehicle through the in-vehicle LTE signal. The system can also augment TLI through machine learning in areas where signal controllers are not connected. To use TLI in your Audi, you'll need an Audi connect® PRIME or PLUS subscription. For a more detailed explanation about how the TLI system works in your Audi, please check out this video from Audi!
Audi Englewood Can Help You Utilize TLI
If you have any questions about using the TLI technology in your Audi, you can call our team at 877-642-4905 or contact us online. We can help you enable the required subscriptions and explain how the system works. If you're in the market for a new vehicle, we have a wide selection of new 2021 and 2022 Audi models, certified pre-owned Audi models, and pre-owned inventory for you to choose from. Our team looks forward to helping you find the perfect vehicle for you, and helping you utilize all your Audi's features.