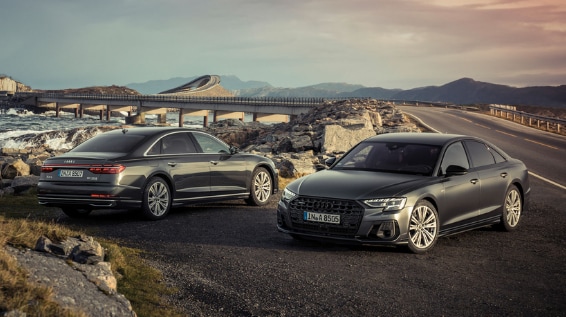 As we approach the end of the year, many automakers have been releasing their 2022 model lineups. Audi recently unveiled the latest 2022 model release – the 2022 Audi A8 and 2022 Audi S8. The 2022 Audi A8 will arrive at European dealerships in December, and American dealers should receive them in early 2022. Here at Audi Englewood, we couldn't be more delighted with the news. The new Audi 8 promises an updated design with cutting-edge technology and safety features, building on the 2021 Audi A8. Continue reading to learn about all the updates coming for the new Audi A8!
A Prestigious and Bold Exterior
With a redesigned exterior design, the new 2022 Audi A8 exudes power, luxury, and elegance. The A8 sports a larger, more dynamic grille with chrome accents adorning its grid from bottom to top. Additionally, the air intakes are more upright, while the redesigned headlights come with a distinct curvature on the outside to give it smooth contours. A true sedan, the Audi A8 has a flat roof, and scrupulous bodylines emphasize its length. New for the 2022 Audi A8, customers will have the option to add a chrome package or S-Line trim level. With an eye-catching front and rear with customized OLED taillights and chrome clasps, this car will turn heads wherever you drive.
The A8's enhancements only extend its dimensions slightly. The car comes with a 9.8-ft. wheelbase, a length of 17 ft., width of 6.4 ft., and height of 8.4 ft. The manufacturer adhered to the Audi Space Frame (ASF) principle of creating a 58-percent aluminum body, hot-formed steel passenger compartment, carbon-fiber rear panel, and magnesium strut-tower bars. With such robust construction, you can expect precision handling, improved efficiency, and highly-rated safety and crash test scores.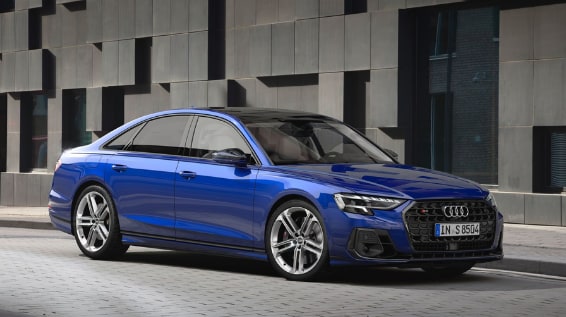 Enhanced Driver-Assist Systems
Audi packed the 2022 A8 with over 40 driver assistance systems – some of which come as standard features. The Audi A8 will come with available, tiered driver-assist packages, including Park, City, and Tour packages. The "Park" package is the remote park assist plus, which you can use to remotely park the sedan on a parallel and bay parking space. On the other hand, the "City" package combines cross-traffic assist, intersection assist, exit alert, and the Audi pre-sense 360-degree safety system. Lastly, the "Tour" package features an adaptive cruise assist and a driver assistance controller, which continuously monitors and calculates the surrounding environment.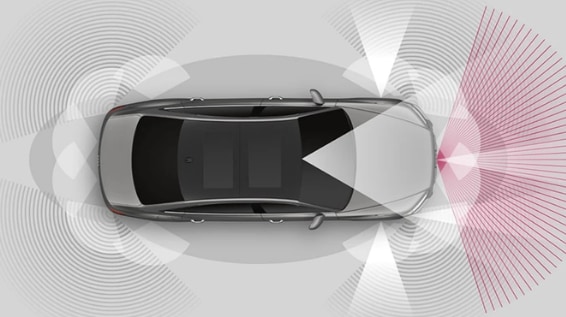 A Sublime Blend of Matrix LED Headlights and OLED Taillights
The 2022 Audi A8 boasts brand new digital matrix LED headlights that use DMD technology, allowing the driver to control the beams with maximum precision. The technology enhances highway lanes and orientation lights, creating a brighter and even illumination for enhanced safety. Now to the rear: The Audi A8 comes with digital OLED rear lights as a standard feature, and you can choose from two rear light signature modes. When you switch to the "Dynamic" drive mode, the signature becomes wider.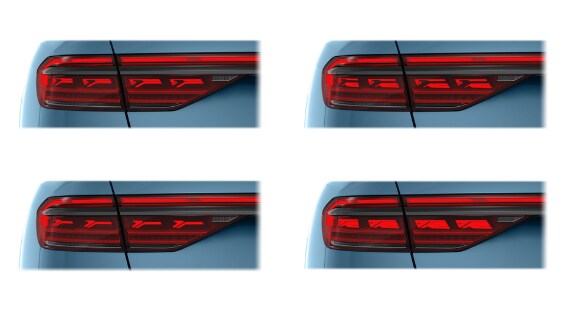 Touch-Response Operation
With an MMI-powered infotainment center, operating the Audi A8 becomes seamless and smooth, thanks to its two highly-responsive 10.1-inch and 8.6-inch touchscreens. If you prefer, you can activate the voice command controls for hands-free updates. The virtual display is slightly oriented to the driver, only displaying the critical information in the driver's line of sight.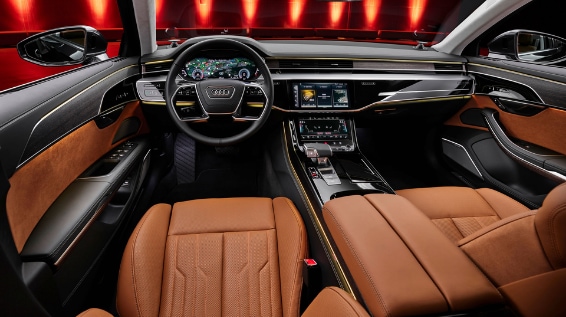 Get Your 2022 Audi A8 at Audi Englewood
We will have to wait until early 2022 to get our hands on the new Audi A8, and our team at Audi Englewood is eagerly waiting. If you're interested in the new 2022 Audi A8, you can contact our Sales Team today at 877-642-4905 and we can help you order one. If you're in the market for a vehicle today, we have a wide range of new Audi models, pre-owned models, and certified pre-owned Audi's to choose from. We look forward to helping you find the perfect vehicle for your needs. Contact us today or shop online using our Digital Retailing Tools!