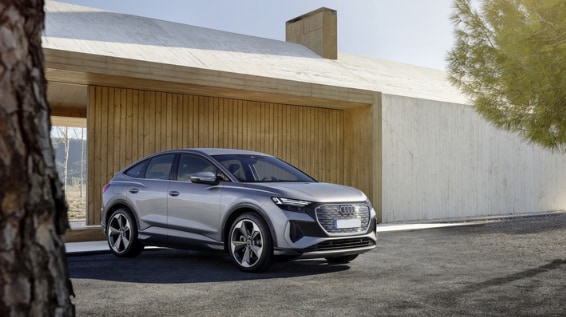 Audi recently released the all-new 2022 Audi Q4 e-tron and Q4 e-tron Sportback, and we all have been eagerly awaiting more details. Well now they're here and we more information on performance specs, technology, pricing and additional features. These new models are the first Audi SUVs to share the Q4 nameplate and the first models to use Volkswagen's MEB modular. The two models come as the fourth and fifth model in Audi's fully-electric e-tron segment and help the company gain an edge among its competitors.
Even though they will be up for sale until late this year, these two new models entry to the e-Tron lineup has caused a lot of excitement among Audi enthusiasts and auto fans alike. Our team at Audi Englewood has eagerly been awaiting updates for this model, so we've compiled everything for you here. Keep reading to learn everything we know at this time about the all-new 2022 Audi Q4 e-Tron and Q4 e-tron Sportback!
Audi Q4 e-tron's Performance & Powertrain
The Q4 e-tron and Q4 e-tron Sportback have multiple powertrain options to help meet the needs of a wide range of consumers. Whether you're looking for an electric, environmentally friendly daily commuter, or you're looking for a long-distance efficient driver, the Q4 e-tron has an option for you. The entry level, base Q4 40 e-tron comes with a single electric engine, rear-wheel drive, and makes around 200 horsepower. Audi's preliminary estimated range based for a full charge is approximately 250 miles on the Q4 40 e-tron.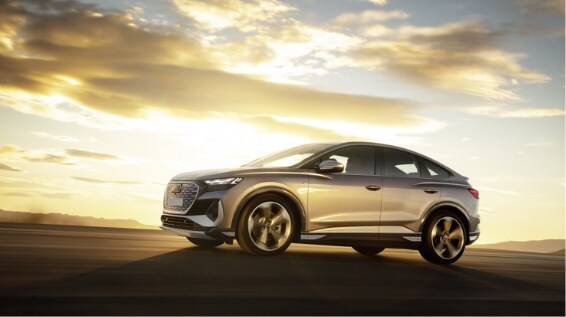 The top-of-the-range Q4 50 e-tron quattro and Q4 Sportback 50 e-tron quattro come with two electric motors and all-wheel drive. These models deliver a maximum estimated output of around 295 horsepower, while the full charge range will be slightly less than 250 miles, but estimates are not confirmed. The Q4 50 e-tron models utilize a temporary on-demand asynchronous motor to alternate between all-wheel drive and two-wheel as needed to maximize efficiency. The all-wheel drive is only used under high demand or when traction is poor.
Audi Q4 e-tron's Interior Design & Features
The Audi Q4 e-tron cabin is authentic to Audi designs but has a few extra unique features, such as a toggle-switch gear selector and available flat-bottom steering wheel. The cockpit is completely driver-centric, with the MMI touch response display pointed towards the driver, and the instrument cluster with available Audi Virtual Cockpit brining extra features front and center. We have also learned that the production version will feature five seats, contrary to the four seats shown on the concept version. Throughout the interior, you'll find components made from recycled materials. You'll also find intelligent storage solutions throughout, including in-door water bottle holders, an in-console mobile device charger and sleek storage compartment, and a customizable load floor in the rear cargo area.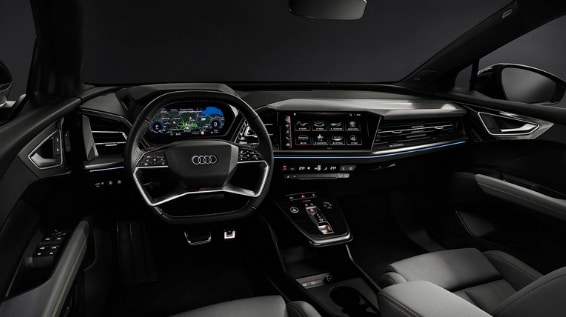 As one may have guessed, the Q4 e-tron is larger than the mid-size Q3 but slightly smaller than the Audi Q5 SUV. Both the Q4 Sportback e-tron and Q4 e-tron offer maximum comfort and spacious designs. The Q4 e-tron comes in at 4.59 meters long, with new storage solutions, versatility, and available interior space very comparable to the Audi Q5. The Q4 e-tron's interior is a technology features showcase all the latest and greatest Audi has to offer.
Audi Q4 e-tron's Safety and Technology
The Audi Q4 e-tron is filled with Audi's latest versions of standard and available technology, driver assists, and safety features, making it one of the safest vehicles Audi has made. In fact, it won the IIHS 2021 TOP SAFETY PICK+ award, one of the most widely respected evaluations in the industry. It will feature the latest Audi driver assistance and safety features making it the most advanced Audi SUV model. These features include augmented reality heads-up display, lane-keep assist, adaptive cruise control, automated emergency braking, and more.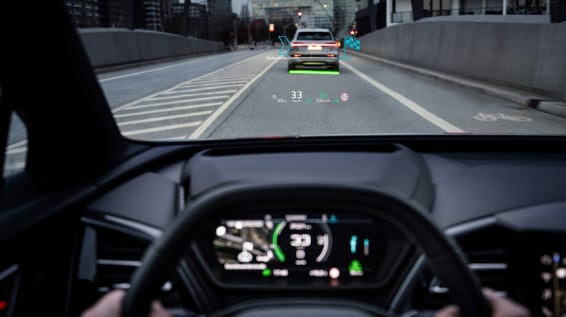 The Audi Q4 e-tron is Coming to Audi Englewood
We are going to have to wait till late this year for the 2022 Audi Q4 E-Tron and Q4 Sportback e-tron to go on sale. In the meantime, if you're interested in learning more or reserving one of the Q4 models, you can call our Sales Team at 877-642-4905 today! If you're currently in the market for a more fuel efficient vehicle, we currently have a wide selection of hybrid and fully-electric e-tron models in stock now. We also have the entire new 2021 Audi model lineup, pre-owned inventory, and certified pre-owned Audi vehicles. We have the vehicle you've been looking for, and if we don't, we can help you find it. We look forward to working with you to get the Audi of your dreams!