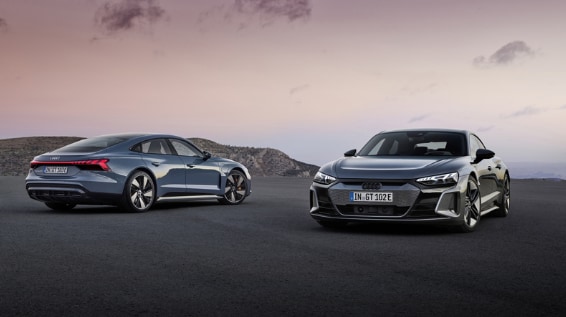 Electric vehicles may have never looked more enticing than this. In 2019, Audi announced a commitment to make their entire model lineup 30% electric and hybrid by 2025 and to reach net carbon neutrality by 2050. With the release of new hybrid models and fully electric models in their e-tron lineup, they're well on their way to achieving that goal. Audi recently released two new fully electric e-tron models – The all-new 2022 Audi e-tron GT and RS e-tron GT! Here at Town Audi, we cannot wait to introduce our customers to the newest member to our electric fleet, and it is certain to captivate auto-enthusiasts everywhere. These all-new electric performance vehicles will arrive this summer and the anticipation is already mounting. Continue reading to learn all about these two all-new electric models from Audi!
Peak Performance
The all-electric 2022 Audi e-tron GT does not compromise performance for efficiency. The 2022 Audi e-tron GT is powered by dual motors housed in both the front and rear axles. These permanently excited synchronous motors (PSM) provide an abundance of torque from a complete standstill. The Audi e-tron GT produces a combined 469 horsepower, and up to 522 horsepower is unleashed through a cutting-edge launch control and overboost system. The overboost feature engages 522 horsepower for 2.5 seconds resulting in a striking acceleration of 0-60 mph in 3.9 seconds. Expect a top track speed of 152 mph.
The 2022 Audi RS e-tron GT is the first fully electric Audi Sport model to be released in the US. The RS e-tron GT produces a combined 590 horsepower with 637 horsepower with overboost. The RS e-tron GT is capable of going 0 to 60 mph in just 3.1 seconds with 612 lb-ft. of toque. This powerful acceleration is equivalent to the V10-powered Audi RS supercar, but with generating zero direct emissions.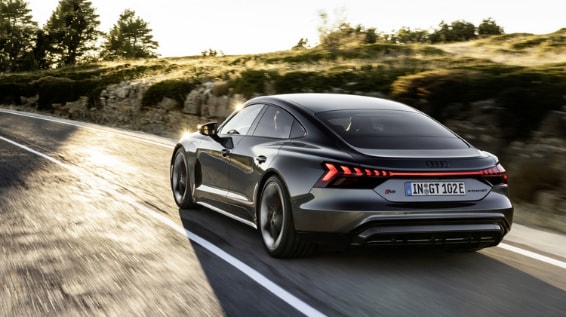 Charging Capabilities
A 93.4 kWh lithium-ion battery powers the Audi e-tron GT for an estimated 238 miles per charge, and the RS e-tron GT for an estimated 232 miles per charge. It is safely stored in an aluminum casing and cooled from underneath by a system unique to Audi. Direct current fast-chargers are capable of charging the battery from 5-80% in 22.5 minutes, getting you back on the road that much faster.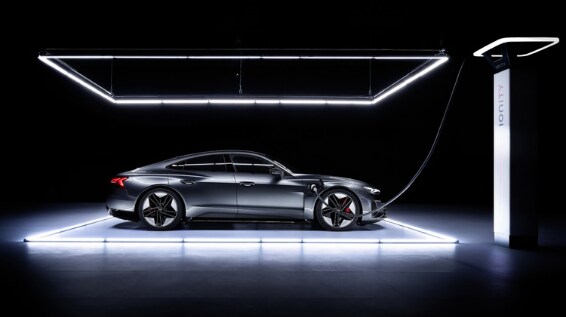 Sustainability & Comfort
The 2022 e-tron GT exemplifies Audi's stylish commitment to electric sustainability. Standard models feature sleek interiors made from recycled sustainable materials, and the vehicle itself is assembled in Audi's Böllinger Höfe plant using 100% eco-electricity. Each new model features Quattro all-wheel drive and optimized aerodynamics. With the low center of gravity, radiator and brake duct air inlets that can close when not needed, and flat greenhouse sloping roofline, the new e-tron GT has a 0.24 drag coefficient. This helps maximize efficiency.
The e-tron GT's capabilities as a performance vehicle do not come at the sacrifice of comfort. The sleek interior and exterior details accentuate the electric power surging from the battery pack that propels this vehicle. Its three-chamber air suspension system has a 60% higher capacity than previous Audi Sportback models, resulting in a better response to a greater variety of driving applications. It also features a two-speed transmission, providing both swift acceleration and smooth cruising stability on the highway.
Get Your Audi e-tron at Town Audi
For more information and details about pre-ordering the 2022 Audi e-tron GT or RS e-tron GT, contact us at Town Audi anytime by calling 877-642-4905. If you're in the market for an electric or hybrid vehicle now, check out our website to explore other e-tron models or hybrid models currently in stock. Our team is ready to help you find a new Audi, pre-owned vehicle, or certified pre-owned Audi perfect for you and your needs. Be sure to look out for the new 2022 Audi e-tron GT coming this summer!