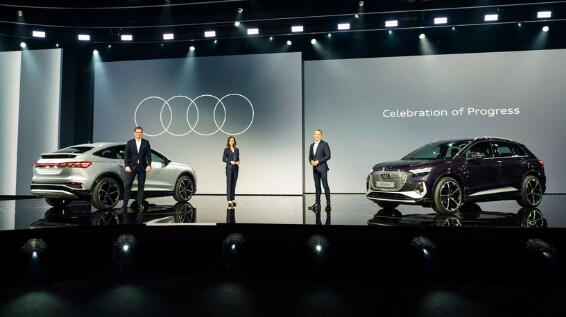 Recently Audi premiered the latest models to be added to their fully electric e-tron lineup. Audi presented two new models as part of its sustainability initiative. The all-electric 2022 Audi Q4 E-Tron and the Audi Q4 Sportback E-Tron will serve as the brand's first compact electric SUVs. Their production will help enter bolster Audi's electric vehicle segment of premium automotive design. Audi demonstrated the highlights of these spectacular new models, all to the approval and adulation of both experts and guests. Both models will be released this year, and our staff here at Audi Englewood cannot wait to share them with you! Continue reading to learn all about the all-new 2022 Audi Q4 E-Tron and te Audi Q4 Sportback E-Tron!
Mileage Range & Cutting-Edge Features
The 2022 Q4 e-tron and Q4 Sportback e-tron will officially be the 3rd and 4th fully electric model to be released in the Audi e-tron lineup. As you may have guessed, the Q4 e-tron is physically larger than the Q3 and a little smaller than the Q5. Both the Q4 E-Tron and the Q4 Sportback E-Tron feature a spacious design, maximizing comfort without sacrificing efficiency. The two models are fully electric, featuring zero local emissions and high mileage ranges. On a full charge, the rear-wheel drive Q4 40 e-tron can go around 323 miles, while charging times either model for around ten minutes will generate enough power to travel around 80 miles.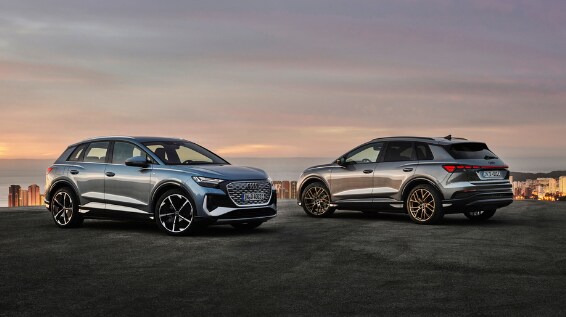 Audi has pioneered innovative options in its operational and assistive technologies with an augmented reality heads-up display. This will allow drivers to virtually see navigational system instructions and vehicle information as plainly as the road ahead of them. There will be three drive modes, each uniquely changing the driving profile of the vehicle allowing for maximum efficiency or maximum performance, depending on your preference. Both the Q4 e-tron and Q4 Sportback e-tron will feature Audi's latest suite of driver assists and safety features, making the Q4 e-tron models the most advanced Audi SUV's to date.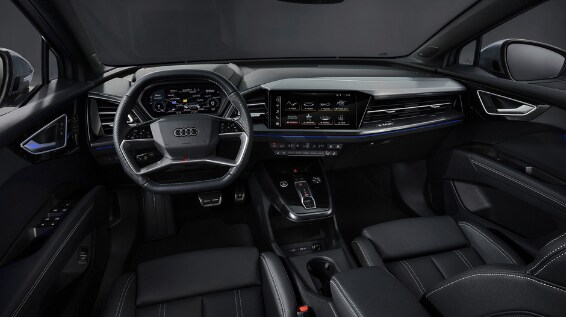 Audi On The Electric Offensive
Audi is leading the charge for major manufacturers in the fully electric vehicle market. By compensating for the CO2 emissions from the manufacture of their electric Q4 E-Tron vehicles, Audi hopes to achieve a neutral carbon balance sheet for their customers. On the topic, follow the premiere event, Markus Duesmann, the CEO of Audi AG, had this to say: "In 2021, the electric offensive is gaining further momentum at Audi. For the first time, more than half of all models newly launched in one year are electric. In this way we are more than doubling the number of our all-electric models, from three to seven." He would go on to explain that sustainability is of key importance to Audi. Audi has made it clear that they are truly dedicated with their Mission:Zero initiative to reach 30% of the U.S. model lineup being fully or partially electrified by 2025.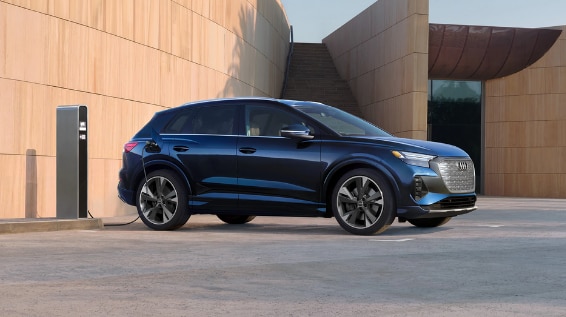 Go Electric With Audi Englewood
The 2022 Audi Q4 E-Tron and Q4 Sportback e-tron will go on sale later this year. If you're interested in learning more or ordering one of these models, you can call our sales team at 877-642-4905 today! If you are currently in the marketing for a fully electric Audi, check out our in stock e-tron inventory! Here at Audi Englewood, we have wide selection of hybrid and electric models, as well as, the full lineup of new 2021 Audi models, pre-owned inventory, and certified pre-owned Audi vehicles. We look forward to helping you play a part in Audi's sustainability initiative!