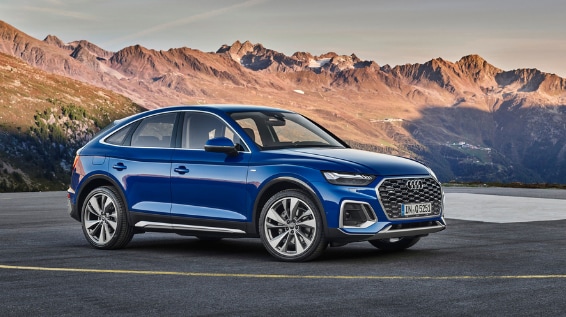 Audi is continually making improvements to their model lineup. Their latest update comes to their flagship SUV, the Audi Q5. Adding to the two previous crossover utility vehicles, the Audi Q5 Sportback coupé was recently announced and is scheduled for release in the first quarter of 2021! Our team at Town Audi is eagerly awaiting the arrival of the 2021 Audi Q5 Sportback, as it combines sporty elements with everyday utility and an elegant design. We know our customers are going to love this new SUV coupé option and we anticipate it will be a big seller. We've compiled all the specifications and updates for this new model variant. Read below to learn more about the 2021 Audi Q5 Sportback and see how it can fit into your lifestyle.
Performance Features
The 2021 Audi Q5 Sportback will come with a unique powertrain offering. The Q5 Sportback will be released with three engine options – two TDI engines and one TFSI. Each engine variation comes paired with a mild hybrid system for increased efficiency, and a seven-speed or eight-speed S tronic transmission. The Q5 Sportback will be offered with Quattro all-wheel drive as well. The larger engine variation makes around 336 horsepower, 516 lb-ft of torque, and is capable of sprinting 0 to 60 mph in just 5.1 seconds.
With all this power, the 2021 Audi Q5 Sportback needed to be able to handle and stop efficiently and safely. Audi has you covered with six-piston brake calipers made of brake disks and aluminum in the new Q5 Sportback. Also, the Q5 comes standard with a sport suspension with controlled dampers and adaptive air ride. This alternative suspension can adjust the ride height as much as 2 inches higher and 2 inches lower depending on driving conditions.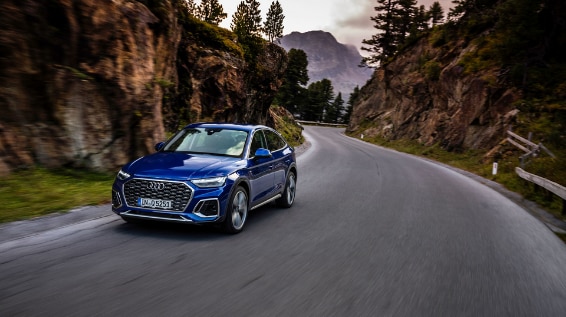 Technology & Safety Updates
The all-new 2021 Audi Q5 Sportback comes with all of Audi's most up-to-date technology, safety features, and driver assists. The infotainment system is controlled on a 10.1-inch touch display featuring Audi's 3rd generation of MMI and MIB. There are optional 12.3-inch display and heads-up display upgrades as well. The infotainment system in the new Q5 Sportback is voice activated and can be initiated by saying "Hey Audi". The myAudi app will help connect customer's smartphone to their vehicle and control all of the available features, apps, and infotainment options.
The Audi Q5 Sportback comes packed with driver assist systems. Adaptive cruise assist, turn assist, swerve assist, cross-traffic assist and exit warning systems provide unparalleled safety. The predictive efficiency assist helps support a predictive driving style. Audi pre sense city comes standard, and can help avoid or mitigate the consequences of front end collisions with other vehicles or pedestrians. The rear lights of the Q5 Sportback feature OLED digital technology, and each light has 3 organic diodes to produce a powerful red color. When a vehicle comes close to the Q5 from behind, the lights automatically turn on as a means of proximity detection. All of these safety features make the new Q5 Sportback the safest Q5 ever.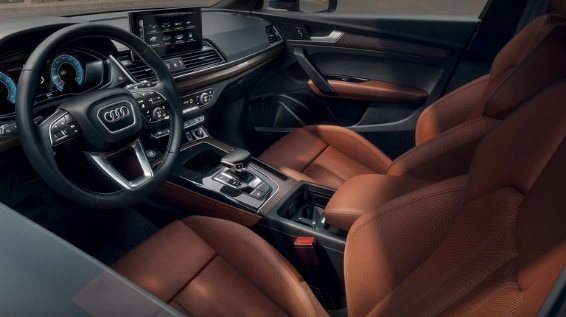 Get Your 2021 Audi Q5 Sportback at Town Audi
The 2021 Audi Q5 Sportback is scheduled to be released in the first quarter of 2021. This new crossover SUV is available to reserve now and will be in stock soon! If you're interested in reserving a Q5 Sportback today contact our Sales Team at Town Audi today! We can help you with any questions you might have about the Q5 Sportback, or any of our other available new models. Call us at 877-642-4905 or stop by our location at 400 S. Dean Street in Englewood, NJ for a test drive. We offer a wide selection of new Audi models, pre-owned vehicles, and certified pre-owned Audi's. We look forward to helping you get in to a brand new Audi!